Elizabeth has been in professional services marketing and business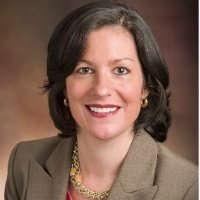 development for over twenty years. Prior to consulting, she served as the Chief Marketing and Business Development Officer at Montgomery McCracken in Philadelphia, PA. She held positions at several other law firms, including Fox Rothschild, Buchanan Ingersoll & Rooney and Morgan Lewis. Her career path has included working at DuPont Legal and the Philadelphia Bar Association. Twice in her career, Elizabeth took on newly-created roles, introducing and pioneering new programs. Her roles in private law firms, a corporate legal department and a professional association has given her a unique perspective on how professional services are bought, sold and delivered.
Elizabeth worked at Buchanan Ingersoll & Rooney as a Marketing Manager and progressed to Director of Diversity, where she was responsible for developing and launching the firm's diversity program and women's initiative.
She spent five years as the Collaboration Manager for DuPont's Network of Primary Law Firms and Service Providers. She was the first person in this position, which was conceived by DuPont's outside counsel. In that role, Elizabeth facilitated collaboration among the 40 firms in the DuPont Legal Model to create opportunities for the firms and service providers to generate new business, as well as referrals between Network members.
Elizabeth began her career in the member services department at the 13,000-member Philadelphia Bar Association for eight years. As the Director of Member Services, she oversaw operations for the association's 60 standing committees, seven sections and the Young Lawyers Division. She managed member programs, public service programs, committee leaders and volunteer corps.
Elizabeth is also committed to her local community and is active in several nonprofit organizations. She currently serves on the board of the National Adoption Center (NAC). She previously served on the board of the Foundation for the Advancement of Technology in Education (FATE). Elizabeth also spends time volunteering with the PSPCA and Big Brothers Big Sisters of Southeastern Pennsylvania (BBBSEPA). In 2011, she participated in the Leadership Philadelphia Executive Program.